This is my preferred easy vegan meal prep method: quick, colourful, nutritious and delicious!
Even for those people out there who love cooking (high 5!), we all have those chaotic days when there's absolutely no way we can spend 45-minutes or more in the kitchen.
Basically, we're going to make some oven-baked veggies and extra ingredients, making sure we hit proteins, carbs and fats, leaving you satisfied and with plenty of time to study, work and take care of your stuff.
With the beginning of the academic semester, I know my long nights in the kitchen are going to disappear for a while, and I'll be all for mealprepping and saving time.
But even if you don't like meal prepping, the dinner idea I bring today is going to appeal to you. The best thing about this meal is that it's a template, totally customizable!
For this, you'll need 15 minutes, spices, olive oil (it's optional) and veggies. Lots of veggies.
One of the reasons I looove having this for dinner is that, since most of the ingredients are low in calories, I can eat a whole lot of yumminess. Some people don't like being too full after a meal, but I love having smaller meals throughout the day and saving most of my intake for dinner.
If you're not like me, you can always prepare a batch at night and eat it for dinner and next day's lunch.
That's also why I won't put the quantities of each ingredient in this post. But worry not, if it ends up being to much, just save the leftovers to the next day and either bake them for 10 minutes or heat them up in a non-sticking pan.
Let's get to it then!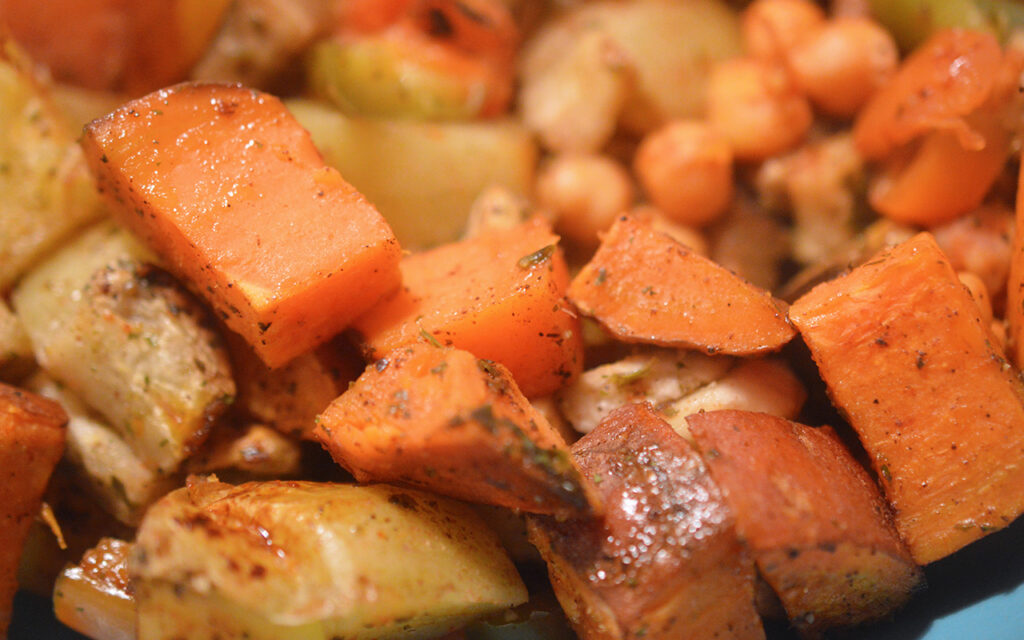 Veggies
I suggest you use some of the following veggies, in the proportion you like the best:
Broccoli
Cauliflower
Carrots
Eggplant
Bell peppers
Zucchini
Tomato
Ideally, make it as colourful as you can. Keep in mind that you can use frozen veggies, but you'll have to leave them in the oven for longer, until the water evaporates. The same goes if you use tomatoes or other veggies with lots of water.
Also add some kind of higher-calorie veggie, such as potatoes or sweet potato.
Protein
If you really want to save on time, I suggest using some kind of legume, as for example chickpeas, white beans, black-eyed peas… whatever tickles your fancy. This way you can put the cooked beans in the tray, along the other ingredients.
Alternatively, you could also use some tofu, cut in pieces and seasoned. You can also just toss it in the tray with the veggies.
Fats
For fats, you can use olive oil, which will really enhance the flavour and texture of the baked veggies. If you are not a fan, you can also dice some avocados on top after you're done baking everything.
Spices
This is the soul of this dish. You can go crazy here, mix as many spices as you want, or keep it simple and use the staples. My suggestion is a combination of all, or some, of the following:
Onion powder
Garlic powder
Ginger powder
Cumin
Smoked paprika
Cinnamon (great with sweet potato)
Curry powder
Chilli powder
Black pepper
Oregano
Herbs de Provence
Prep
Preheat the oven at 200 degrees.
Basically, all you will need to do is cut everything you're using in squares. The smaller the pieces, the quicker they cook. Ideally, you should aim to have them in similar pieces, but I also like it when they are in different sizes and, hence, in different textures. If you use organic ingredients, you don't even need to peel everything.
Next, place all the cut veggies and pre-cooked legumes (or tofu) in a baking tray. If using any oil, pour 1-2 tbs on top of the veggies. Season with the spices. Using your hands or a big spoon, mix and toss everything, until all the pieces are seasoned.
Place it in the oven for 20 minutes. Now, the total time they need to be in the oven depends on what veggies you're using and the chunk pieces. But at the 20 minutes mark, you can also turn on the grill in your oven and this way you get some nice, crispy veggies. Totally up to you.
Leave it in the oven until it gets to your preferred crunchiness or softness point. I like to have a mix of textures, so normally at the 35-40 minutes mark, I take them out.
You can eat it with mixed greens or some avocado on top.
And that's it! Although it takes a while in the oven, you really only spend 15 minutes cutting everything and mixing it up. You will probably get a cutting board, a knife and a spoon dirty, which are also super quick to wash and be done with.
Very easy, intuitive and absolutely delicious dinner for those busy, busy days. Hope you like it!
If you try this at home, let me know what you thought of it 😊